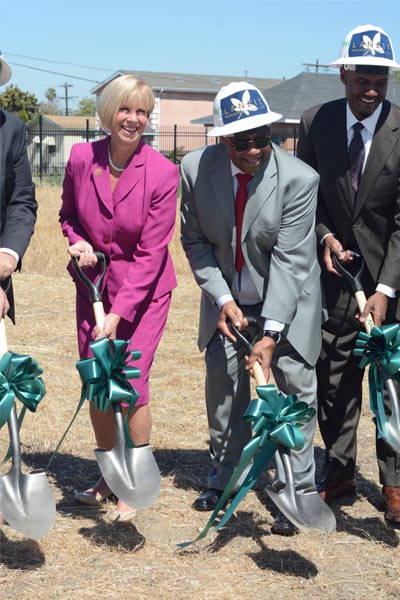 Dozens gathered to celebrate the groundbreaking of a new industrial building in Watts last week, the first such project for the South L.A. community in more than 40 years. The building, a project of Lanzit Industrial Park LLC, will be about 46,000-square feet and house space for both offices and light manufacturing.
The industrial park promises to bring some much needed employment opportunities to the neighborhood.
"Today we can rejoice with the knowledge that new jobs are coming to Watts," said Rodney Shepard, the South Los Angeles land developer leading the Lanzit project. "This development will bring economic security and good, stable, manufacturing jobs back here where they belong." 
Democratic Congresswoman Janice Hahn and former L.A. City Councilwoman Jan Perry, both known for their interest in the economic health of Watts, were in attendance.
This particular building marks the first of many that will eventually make up the 175,000 square feet development.
For residents and stakeholders, a new industrial park is welcome.
"It's a fantastic development that this community has needed for far too long," said Adam Dominguez, the Business Development Officer of the Vermont-Slauson Economic Development Corporation. "We're hoping that this project will bring some much needed stabillity to the neighborhood."
Although the building has not yet been filled with tenants, Shepard has developed other similar projects in the past — including a mixed-use retail property in Vermont Knolls and a 124-unit Senior Citizen apartment complex in Watts.
Lanzit Industrial Park will be built on a vacant lot, abandoned for more than 35 years to date.
This article was originally published on Neon Tommy. Contact Staff Reporter Matthew Tinoco here.