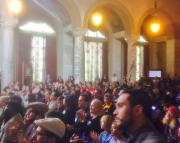 On a 12-1 vote, the Los Angeles City Council voted Tuesday to completely redo the way it disposes of garbage from apartment complexes and businesses in a hope to clean up a situation that some people think is stinky.
Listen to an audio version of this story from Annenberg Radio News: 

The bill was spearheaded by Councilman Jose Huizar. It would restructure garbage collection by giving private haulers one of 11 franchises across Los Angeles. It will also require the haulers to recycle. In the past, trash collectors of businesses and apartments simply dumped all trash in Los Angeles area landfills.
Some small business owners supported the bill. Shervin Shahidi, owner of The Fresh Potato Factory in Northridge, was one of them.
"We will be able to use our compostable products…it's more to doing the right thing. I think we have been looking at things to much from a financial standpoint so I think it's time to change up a little bit."
8th District Councilman Bernard Parks was the lone vote against the measure, as he fears that the new plan would negatively impact small businesses.
"I think it's a very poor public policy. I think that you'll find that there were only 3 or 4 groups that thought this was a good idea. The community which pays the bill has been left out of the discussion."
Parks also believes that the bill will not create harmonious employer-worker relations, which is what supporters of the bill also claim it will resolve.
"We all know that dealing in labor, it doesn't require the leadership of the union to declare a labor problem. It requires a group of employees. So these are things that will put the community in a lurch because of special interests."
With the measure, Los Angeles hopes to reduce its trash output by 90% by the year 2025. Because the vote on the bill was not unanimous, it will come to a final vote on April 8th.